PW30 Series
Remote Wet-to-Wet
Differential Pressure Sensor
Higher Reliability, Faster Installation, Superior Accuracy | Sense the Difference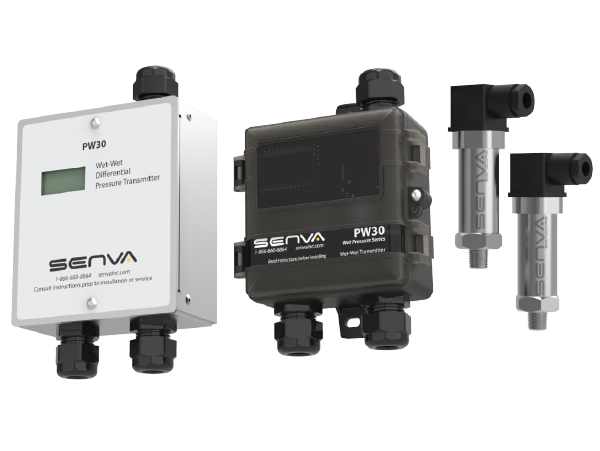 Revolutionary design eliminates plumbing/bypass assemblies
16 selectable differential ranges in one device
LCD display for verification of high, low, and differential pressures
Swap or replace remote sensors with ease


Drastically reduce plumbing needs and save installation time
Order with pre-fabricated wire to save additional time
Single device for 1-500 PSID makes ordering easy
Swap or replace remote sensors with ease
LCD and dip switches make configuration fast and simple
Display kPa or PSID units
Remote sensors come standard with DIN43650 connection for easy plug-and-play, no wire twisting
MEMS sensor technology
Integrated surge snubber protects sensor from water hammer for reliable long term performance
Manual and remote zero for maintained accuracy
Port swap corrects plumbing errors
Fast/slow switch for desired response time
Uni/bi directional
Test mode - forces full scale output
Conduit and wire connection compatible
Description
The PW30 Series uses remote sensors to eliminate the need for costly bypass assemblies, enabling fast, cost effective installation. The remote sensors mount directly to pipe to eliminate bleeding and additional plumbing. Sensors come with both conduit and wire connection options. Optional factory pre-wired harnesses also available in wire and armored cable versions. Standard LCD screen and dip switches make configuration a breeze. Measure 16 differential pressure ranges from 1-500 PSID with a single device without sacrificing accuracy. Selectable output 0-5V, 0-10V, or 2 Wire 4-20mA.
Applications
Demand measurement in HVAC systems for pump speed control and local indication
Process control systems
Flow measurement of gases, vapors, and liquids compatible with 316L SS
Filter status monitoring
System leak detection
All prices shown are excluding tax unless otherwise specified.