TG Series UL Wall & Duct
Dual Toxic Gas CO/NO2 Sensor/Controller
Higher Reliability, Faster Installation, Superior Accuracy | Sense the Difference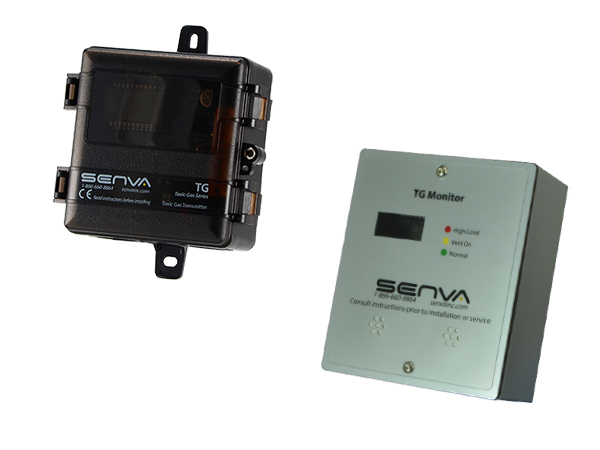 Individual CO, NO2, or dual sensing elements in one enclosure.
BACnet/Modbus or Analog ouput models.
Operates as a sensor or stand-alone controller.
Standard LCD with intuitive set up menu.
Supports BACnet MS/TP and Modbus RTU networks.
Integrated display, LED indicators, audible alarm.
Analog menu selectable 0-5/10V, 1-5V and 4-20mA outputs (0-10V default).
Analog version supports daisy chain wiring to cost-effectively sense and control large areas.
Sensor self-test feature for added safety and reliability.
Temperature compensated elements for maximum accuracy.
UL listed and LADBS Approved (City of LA).
NEW! UL2075 Listed CO and NO2 elements.
arning indicators alert occupants when element's lifecycle is near end for replacement.
Field replaceable sensing elements; 7 year life expectancy on CO and NO2 elements.
Description
Senva UL Listed TG Series sensors can be ordered as individual CO or NO2 sensors or as a combination of CO&NO2 sensors in a shared enclosure. CO and NO2 sensor components are listed to UL2075. The analog output model features 2 outputs that support daisy chain wiring - multiple sensors may be used in a parallel sequence (0-10V) for cost effective coverage of large areas. The unit can also act as a stand alone controller, utilizing the relay for exhaust fan operation or the output for direct control of a VFD. The BACnet/Modbus model supports BACnet MS/TP & Modbus network communication in one unit. Standard features include network auto-configuration, a programmable fan relay, LED indicators, integrated display and audible alarm.
Applications
Ensure adequate air flow in occupied spaces.
Ideal for parking lot garages.
Monitor multiple toxic gases with one mounted unit.
Alert occupants of elevated gas levels.
Directly control exhaust fans.
All prices shown are excluding tax unless otherwise specified.