CVT Series
Current/Voltage Transducers
Higher Reliability, Faster Installation, Superior Accuracy | Sense the Difference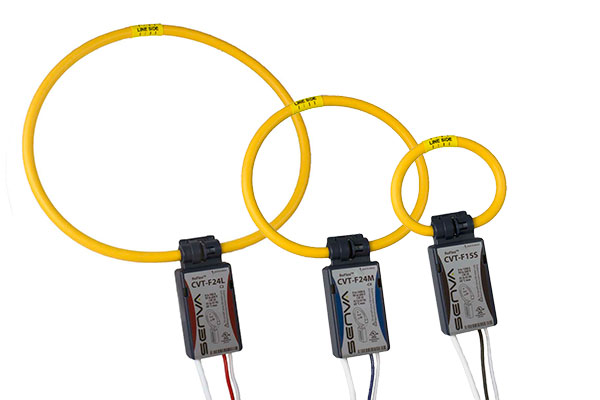 1% total system accuracy (meter & CVT)
For use with Pulse and Protocol Versions of the EM Series Meter
Flexible Split-core Rogowski CVTTM Sensors
Monitor loads from 30-6000A & 90-600V
Digitally calibrated CVTsTM are extremely accurate
The accuracy is as high as a calibrated system, yet different CVTsTM can be changed from meter to meter while maintaining accuracy. A big advantage for auditing, since meter is not size specific.
Plug and play installation— individual CVTsTM are digitally recognized by the meter and outputs are automatically scaled—no user set up is required.
Digital communication offers superior noise immunity compared to traditional induced low-signal Rogowskis
All the high voltage connections are at the CVTTM
Rogowski CVTsTM are available in 4 sizes from 9" to 36" in circumference and include several rating options from 300A to 6000A and are universally rated for 90-600V
No fusing required for CVT wire runs under 10'
Description
The Current/Voltage Transducer (CVT) measures both voltage and current, communicating the data digitally to the meter via plug-in low voltage connections. This allows the meter to remain a low-voltage device. Each CVT uses digital communication with the meter for superior noise immunity. The CVTs are individually calibrated and measurement accuracy is independent of the transducer. To complement the CVT, our metering platform offers two meter options (EM-PULSE & EM-RS485) which are small enough to fit in the palm of your hand, yet powerful enough to self-configure during installation, removing all manual configuration. Virtually a plug and play BACnet meter!
Applications
Energy Management and performance contracting
Monitoring for commercial tenants
Activity-based costing in commercial and industrial facilities
Real-time power monitoring
Load shedding
Audits/temporary monitoring
Distributed generation
Great for data center CVT
All prices shown are excluding tax unless otherwise specified.