TotalSense Series
Outdoor Air Quality Sensor
Higher Reliability, Faster Installation, Superior Accuracy | Sense the Difference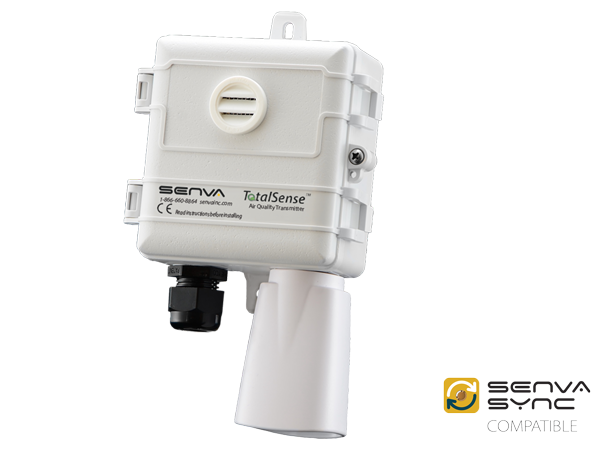 Build a complete air quality system for indoor, duct, and outdoor
Six environmental sensors: PMx, VOC, CO2, RH, T, barometric pressure
BACnet/Modbus or analog outputs with set-point relay


NEW! Configuration App with Senva Sync
Reduce installation costs with multiple sensors in a rugged, easy-mount outdoor enclosure
Specify the exact product for your application with made in USA
Sense unhealthy particulates or TVOC's
Industry-leading temperature and barometric pressure compensated CO2 sensing with non-dispersive infrared sensing element (NDIR), 15+ year life expectancy on CO2 sensing element; ±30ppm, ±3% of reading
Tamper-proof
Field-replaceable RH, Temp, and CO2 sensors ease maintenance
7-year limited warranty / 3 years on CO2 sensor - 2 years on all others
Description
The TotalSense Series Outdoor AQ sensor provides more data for more advanced ventilation control while drastically reducing installation cost and time on a project. It includes a comprehensive selection of AQ sensing with carbon dioxide (CO2), relative humidity (RH), and temperature plus options for total volatile organic compounds (TVOC), barometric pressure and particulate matter (PM). This sensor is enclosed in an outdoor rated enclosure to protect electronics from rain, overhead watering systems and harmful UV rays.
Applications
Measure outdoor air quality for indoor/outdoor comparison to meet ASHRAE 62.1 standard for air quality
Energy management/building control
Contributes toward satisfying Feature A08 and T06 under the WELL Building Standard®
Dual Channel CO2 version is perfect for greenhouses
All prices shown are excluding tax unless otherwise specified.