EM Pulse Series
Pulse Output Energy Meter
Higher Reliability, Faster Installation, Superior Accuracy | Sense the Difference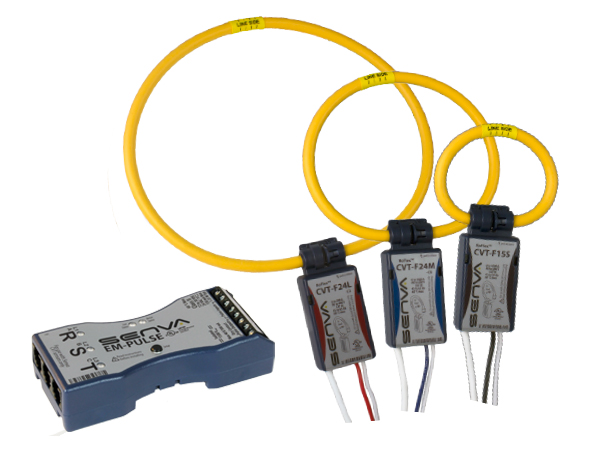 ANSI C12.20 0.2% Meter Accuracy
Pulse Version: kWh, KVAR, kVA
Accepts additional pulse inputs for meters or flow meters
Flexible Split-core Rogowski CVTTM Sensors
Monitor loads from 30-6000A & 90-600VAC
Split-core Rogowski CVTTM senses both voltage and current, communicating with the meter through a low voltage data cable
Easy to install Rogowski CVTTM is lightweight and compact
True 3 channel meter--mix and match different voltages and currents per phase on HVAC equipment
No scaling required--easy set up
Meter base is entirely low voltage--locate external to panel if desired
2 pulse inputs can connect to a variety of pulse output meters (water, gas, steam, etc.)
Versatile DIN, screw, and magnetic mount
Description
The EM-pulse installs quickly and safely. Unique design makes the meter entirely low-voltage, as the high voltage components are embedded in the Current/Voltage Transducer (CVT). Each CVT uses digital communication with the meter for superior noise immunity. The CVTs are individually calibrated and can be mixed or matched with independent meter channels for a sum total. Accepts additional pulse inputs for additional meter inputs.
Applications
Energy Management & performance contracting
Monitoring for commercial tenants
Activity-based costing in commercial & industrial facilities
Real-time power monitoring & load shedding
Audits/temporary monitoring
Distributed generation
All prices shown are excluding tax unless otherwise specified.