TotalSense Series
Indoor Environmental and Air Quality Sensor
Higher Reliability, Faster Installation, Superior Accuracy | Sense the Difference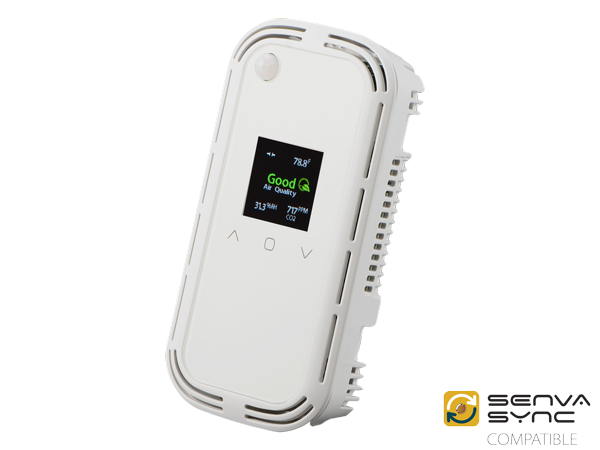 Industry's first IAQ sensor with PIR motion detection
Six environmental sensors: PIR, CO2, RH, T, ambient light, barometric pressure
BACnet/Modbus or analog outputs with set-point relay
Reduce installation costs with multiple sensors in a standard size enclosure

NEW! Save even more using an analog output for local PID control
NEW! Dual BACnet/Modbus PLUS analog output version for BAS connection plus local analog control
NEW! Configuration App with Senva Sync

Specify the exact product for your application with made in USA quality
Color display and Air Quality Ring for tenant assurance (programmable)

NEW! Use PIR occupancy sensor to enable auto-wakeup of display

Color display and Air Quality Ring for tenant assurance (programmable)
NEW! Use PIR occupancy sensor to enable auto-wakeup of display
Initiate ventilation immediately upon occupancy detection for healthier buildings and energy savings
Industry-leading temperature and barometric pressure compensated CO2 sensing with non-dispersive infrared sensing element (NDIR), 15+ year life expectancy on CO2 sensing element; ±30ppm, ±3% of reading
Capacitive touch buttons make setup and use simple
Slim and sleek surface-mount enclosure is tamper-proof and easy to install
Field-replaceable sensors ease maintenance
Set-point sliders and pushbuttons are also available to meet the requirements for any job
7-year limited warranty / 3 years on CO2 sensor - 2 years on all others
Description
The TotalSense Series provides more data for more advanced ventilation control while drastically reducing installation cost and time on a project. It includes a comprehensive selection of IAQ sensing with carbon dioxide (CO2), relative humidity (RH), and temperature plus options for occupancy detection (PIR), total volatile organic compounds (TVOC), particulate matter (PM) and ambient light. More than an IAQ sensor, it's the first fully configurable Indoor Environmental Quality (IEQ) sensor matrix. For options including PM or TVOC or for RH/Temp only, see the other TotalSense webpages in the "indoor air quality" or "relative humidity"section or call your sales rep. Motion detection (PIR) can initiate ventilation upon occupancy, providing air exchanges the instant people are present (in addition to monitored elevated CO2 levels.) This technology provides a much faster trigger for ventilation allowing for cleaner and safer indoor spaces while still saving energy. PIR and ambient light sensors can also be utilized for light harvesting for additional energy savings and code compliance.
Applications
Verify effectiveness of IAQ strategies in post covid environment
Energy management/building control
Facilitates compliance with ASHRAE 62.1 standard for air quality
All prices shown are excluding tax unless otherwise specified.