TG Series UL Wall & Duct
Dual Combustible Gas Sensor/Controller
Higher Reliability, Faster Installation, Superior Accuracy | Sense the Difference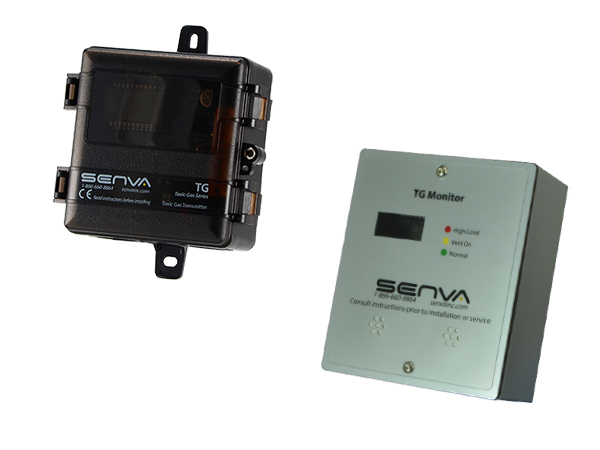 Individual sensors or as any dual combination of CO/NO2/Propane/Methane/H2S sensors in a shared enclosure.
Detect Methane/Propane leaks and monitor for elevated CO levels, all in one unit.
Analog and BACnet/Modbus protocol options
Rugged ABS or Metal enclosure options
Operates as stand-alone sensor or local controller
Integrated display, LED indicators, audible alarm
Menu selectable 0-5/10V, 1-5V and 4-20mA outputs (0-10V default)
BACnet supports BACnet MS/TP and Modbus RTU networks with auto-configuration for network baud rate, serial format, protocol type and self-addressing
Dual outputs support daisy chain wiring to cost-effectively sense and control large areas
UL2034 recognized electrochemical CO sensing element
Warning indicators alert occupants when element's lifecycle is near end for replacement
Installer-friendly circuit board makes through-the-back wiring simple
Test mode speeds up field commissioning for verifying warning indicators and relay functions
Push buttons and LCD to navigate setting parameters
UL Listed (UL61010-1)
NEW! UL2075 Listed Propane, Methane, and Hydrogen elements.
-year limited warranty on electronics; 2-year on elements
Description
Senva TG Series sensors can be ordered as individual CH4 sensor, C3H8 sensor, H2 sensor, O2 sensor, H2S sensor, or specify two sensing elements in one enclosure including CO and NO2. The analog output model features 2 outputs that support daisy chain wiring - multiple sensors may be used in a parallel sequence (0-10V) for cost effective coverage of large areas. The unit can also act as a stand alone controller, utilizing the relay for exhaust fan operation or the output for direct control of a VFD. The BACnet/Modbus model supports BACnet MS/TP & Modbus network communication in one unit. Standard features include network auto-configuration, a programmable fan relay, LED indicators, integrated display and audible alarm.
Applications
Boiler rooms
Commercial kitchens
Battery Rooms
Compressed Gas storage
Residential and commercial heating and water heating
Vehicle bays and garages for natural gas (LNG) or petroleum gas (LPG) vehicles
Waste facilities
All prices shown are excluding tax unless otherwise specified.