Pressure - Wet-Wet DP (Conduit Version)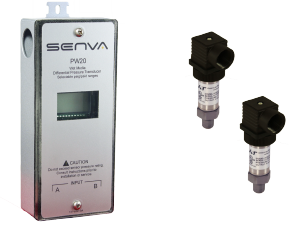 Conduit adapter design
0 to 10~500 PSID (switch selectable, ranges vary depending on elements/transmitter selected)
Built-in snubbers protect sensing elements from water hammer damage
LCD display toggles between Supply,Return and Differential pressure readings
Dual 0-5/10VDC and 4-20mA outputs
Applications
Ideal for monitoring pumps and load differential pressures in HVAC systems and processes where local indication is needed.

Process control systems

Flow measurement of various gases or liquids

Liquid level measurement of pressurized vessels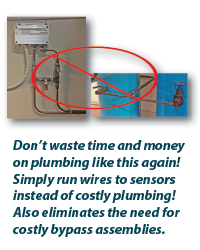 Description
The PW Conduit Wet-Wet series remote sensors are installed directly into the pipe and electrical connection is made between the PWC remote sensors and PW transmitter via 4-conductor shielded cable run through conduit. This dramatically reduces labor cost by eliminating plumbing/piping to a traditional transducer. Startup time is reduced since purging air out of the lines is not necessary. Traditional plumbed bypass assemblies are no longer required. Choose between the PW10 and PW20 model based on your anticipated PSID range.
Product
Price
Quantity
PW10
Wet transducer - LOW Conduit Connection
$ 389.00
PW20
Wet transducer Conduit Connection
$ 389.00
PWC050
Pressure Sensor, 50PSI, Conduit Cable Connection
$ 273.00
PWC100
Pressure Sensor, 100PSI, Conduit Cable Connection
$ 273.00
PWC250
Pressure Sensor, 250PSI, Conduit Cable Connection
$ 273.00
PWC500
Pressure Sensor, 500PSI, Conduit Cable Connection
$ 273.00


CLICK ON LISTED ITEM FOR SPECIFICATIONS.

List prices shown; trade pricing appears on orderpad for Senva Trade Accounts.
For qualified trade pricing, please contact us at 866-660-8864.
Oregon has no sales tax.
Conduit ports on transmitter and elements
Run conduit and 4-conductor shielded cable from transmitter to elements to wire in the field
Eliminates costly plumbing and by-pass manifolds
Versatile Universal Transmitter
Three selectable PSID ranges per sensing element
Low and standard PSID range transmitter models
500 PSIG is ideal for high rise applications
User friendly LCD displays in PSID or kPa
Jumper selectable features for easy installation
Absolute mode outputs absolute value of difference
Port swap corrects plumbing errors
Fast/slow to select desired response time
Uni/bi directional
Test mode—forces full-scale output
Over range icon flashes if differential pressure is over-range, alerting technician to move range switch to next higher dp setting and rescale panel
Switch selectable outputs: 2-wire 4-20mA, 3-wire 0-5V or 0-10V
High Reliability
Built-in snubbers protect sensing elements from water hammer damage
MEMS sensor technology
Specifications
Power Supply
Voltage output mode 0-5V
12-30VDC/24VAC(1), 20mA max.
Voltage output mode 0-10V
15-30VDC/24VAC required for 10V full scale output
Current (4-20 mA) output mode
12-30VDC, 20mA max.
Output type
Switch selectable
3-wire 0-5/10VDC and 2-wire 4-20mA
Pressure Ranges
Model PWC100
100 PSIG (Select 10/20/40 or 50/75/100 PSID based on PW Model)
Model PWC250
250 PSIG (Select 25/50/100 or 75/150/250 PSID based on PW Model)
Model PWC500
500 PSIG (Select 50/100/150 or 100/250/500 PSID based on PW Model)
Operating Temperature
Transmitter
32 to 140°F (0-60°C)
Media compatibility
Type
Water; other 17-4 SS compatible media
Temperature
32 to 250°F (0-125°C)
Zero Adjustment
Automatic
Push-button, terminal block switch input, Push button for 5-seconds to re-zero. Hold for 10-seconds to restore factory settings
Transmitter Performance(2)
PW10 Accuracy
Range A B/C
All PSIG Elements +/-4% FS +/-2% FS
PW20 Accuracy
Range A B/C
All PSIG Elements +/-2% FS +/-1% FS
Sensor Type
Micro-machined silicon strain gauge
Sensor (PWCxxx) Performance
Accuracy
< ±0.5% BFSL
Zero Offset
< ±2%
Span Tolerance
< ±2%
Stability (1 Year)
±0.25%FS, typ
Overange Protection
2X Rated Pressure
Burst Pressure
5X or 20,000 psi (whichever is less)
Pressure Cycles
> 100 Million
Compensated Range
0 to 55°C (30 to 130°F)
Temp. Comp. Zero
<±1.5% of FS
Temp. Comp. Span
<±1.5% of FS
Shock
100G, 11 msec, 1/2 sine
Vibration
10G peak, 20 to 2000 Hz.
EMI/RFI Protection
Yes
Enclosure, PW20 Transmitter
Construction
Powdered coated steel
Sealing
IP65 (when installed with water-tight fittings)
Enclosure, PWC (xxx) Sensor
Construction
Stainless Steel 17-4, 1/4" MNPT, 1/2" Conduit Fitting
Sealing
IP65 (when installed with water tight fittings)


Enclosure, PWBV Service Valve
Construction
Chrome-plated brass, 1/4" NPT Female x Male
(1) One side of transformer secondary is connected to signal common. Dedicated transformer is recommended.
(2) FS is defined as the full scale of the selected range in bi-directional mode.