PWC Series
Wet Differential Pressure Transducers, Conduit
Higher Reliability, Faster Installation, Superior Accuracy | Sense the Difference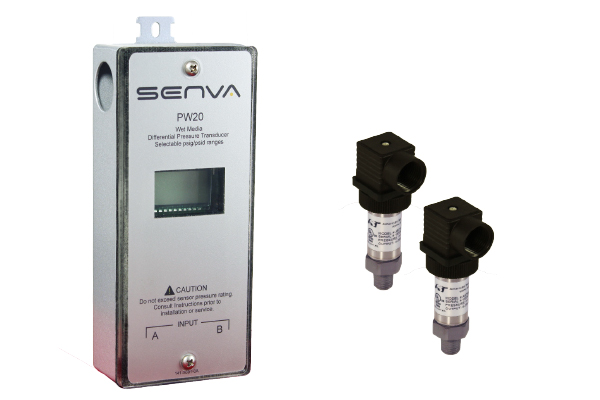 Conduit adapter design
0 to 10~500 PSID
Revolutionary design eliminates plumbing
LCD display (PSID or kPa jumper selectable)
Dual 0-5/10VDC and 4-20mA outputs
Conduit ports on transmitter and elements
Run conduit and 4-conductor shielded cable from transmitter to elements to wire in the field, eliminates costly plumbing and by-pass manifolds
Versatile Universal Transmitter with Three selectable PSID ranges per sensing element
Low and standard PSID range transmitter models
500 PSIG is ideal for high rise applications
User friendly LCD displays in PSID or kPa
Absolute mode outputs absolute value of difference
Port swap corrects plumbing errors
Fast/slow to select desired response time
Uni/bi directional
Test mode—forces full-scale output
Over range icon flashes if differential pressure is over-range, alerting technician to move range switch to next higher dp setting and rescale panel
Built-in snubbers protect sensing elements from water hammer damage
MEMS sensor technology
Description
The PW Conduit Wet-Wet series remote sensors are installed directly into the pipe and electrical connection is made between the PWC remote sensors and PW transmitter via 4-conductor shielded cable run through conduit. This dramatically reduces labor cost by eliminating plumbing/piping to a traditional transducer. Startup time is reduced since purging air out of the lines is not necessary. Traditional plumbed bypass assemblies are no longer required. Choose between the PW10 and PW20 model based on your anticipated PSID range.
Applications
Ideal for monitoring pumps and load differential pressures in HVAC systems and processes where local indication is needed.
Process control systems
Flow measurement of various gases or liquids
All prices shown are excluding tax unless otherwise specified.